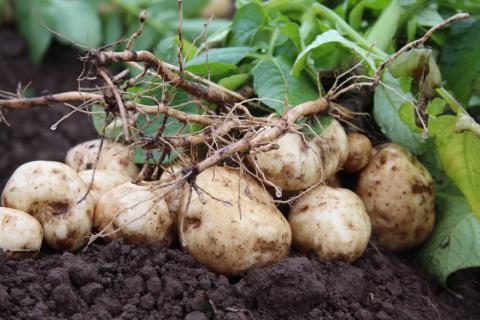 February 23, 2022
Chaired by Phil Burgess (Scottishpotato.org), the Potato session covers the second day of the Crop Production in Northern Britain Conference 2022 #CPNB2022 on Wednesday 2nd March, 10.00 GMT.
The Potato session has an exciting range of high-profile internationally renowned speakers. The session organisers are pleased to welcome keynote and invited speakers from the International Potato Center (CIP, Peru), Solynta (The Netherlands), ACW Changins (Switzerland) that will "kick-off" the session by presenting the latest development in breeding strategies and integrated pest management to overcome the daunting challenges to achieving the 2030 Sustainable Development Goals.
Through the day, the plenary sessions will address the latest cutting-edge research on potato pests and diseases and consider the impact of pesticide withdrawals on crop production in Scotland while maintaining a high level of pest and disease control.
The Potato session will conclude with an interactive Q&A discussion involving speakers and the audience, which promises to be informative and insightful!
The full list of speakers and topics for the Potato session of #CPNB2022 on 2nd of March 10:00 GMT is as follows:
10.00 Chair: Philip Burgess, Scottishpotatoes.org.
10.05 Oscar Ortiz, Director General of the International Potato Center (CIP), Peru. Keynote talk: Overview of the future for potatoes in an international context.
10.35 Edwin van der Vossen, R&D Director, Solynta, The Netherlands. Keynote speaker: Towards more resilient potatoes: status and

potential of hybrid true potato seed breeding.

11.05 Brice Dupuis, ACW Changins, Switzerland. Invited speaker: New Potato virus Y (PVY) control strategies in seed potatoes.
11.30 Philip Burgess, Christophe Lacomme, Jane Thomas, Ian Nevison, Innes Jessiman: Evaluating the effectiveness of aphid management programmes in minimising the spread of non-persistent viruses in potato seed crops in GB.
11.45 Alison Roberts, Graham Cowan, Pankaj Kumar, Julie Squires, Lesley Torrance: The effect of phloem transport on virus movement and tuber bulking in potatoes.
12.00 James Lynott, Alison Lees, David Cooke, Louise Sullivan: Characterising Phytophthora infestans genotypes dominant in the GB population.
13.00 Kyran Maloney, Ryan Torrie: Haulm pulling and disease risk in high-grade seed potato crops.
13.15 Ian Toth, Adam Kleczkowski, Amy King, Ari Sadanandom, Barbara Mable, et al : New approaches for blackleg disease control and the development of a decisions support tool.
13.30 Ashleigh Holmes, Jacqueline Marshall, Kathryn M. Wright, Gill Fraser, Sonia Humphris, Ian Toth: Pectobacterium atrosepticum colonisation of cover crop species under controlled conditions.
13.55 John Jones, Catriona McLean, David Ewing, Eric Anderson, Fiona Burnett, et al : Coordinating solutions across industry, academia and government to potato cyst nematode (PCN) in Scotland.
14.10 Jon Pickup, Jim Wilson, Eric Anderson: Restoring PCN infested land for seed potato production: Using intensive soil testing and resistant varieties.
14.25 Rebecca Cairns, Fiona Highet, David Kenyon, Mogens Nicolaisen, et al : Euphresco Epitrix II – Improving detection, identification understanding and control of this serious potential pest to the potato industry.