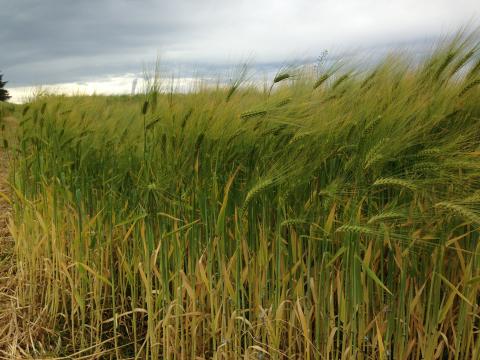 February 22, 2022
Chaired by Dr Keith Dawson, chair of the Scottish Society of Crop Research, the Combinable Crops session takes place on the first day of the Crop Production in Northern Britain Conference for 2022 on 1st March, 13:00 GMT.
Crop production is entering a period of rapid change as new systems are developed aimed at more sustainable use of resources and using a more holistic approach to the protection of crops from weeds, pests and diseases. The adoption of Integrated Pest Management (IPM) as official policy has accelerated the pace of research into new techniques and options but with many choices available to growers the formulation of new strategies remains a challenge. The keynote speaker for the session, Dr Neil Paveley (ADAS), will discuss the complexity of IPM and the potential barriers that face its widespread and universal adoption.
The session also has a number of talks on the optimisation of crop inputs, changes and advances in crop nutrition, achieving the full genetic potential of cereal crops, IPM planning, advances in cereal disease control, including the use of rapid disease diagnostics and the threat to crops from fungal pathogens.
A number of associated posters are also presented and there is an opportunity to send questions for the speakers and poster authors and also to discuss new opportunities and challenges in the area of combinable crops.
The programme for the Combinable Crops session on 1st March 13.00 GMT is as follows:
13.05 Chair, Keith Dawson, SSCR
13.10 Neil Paveley, Henry Creissen, Chris Hartfield, Nicolas Munier-Jolain, Philip Walker, Jonathan Blake, Mark Ramsden, keynote talk: Combinable crops - Increasing IPM uptake.
13.40 Henry Creissen, Elliot Meador, Fiona Burnett: IPM adoption by arable farmers: Analysis of the new IPM plans.
13.55 Katherine Lester: Arthropod biodiversity in field margins at SASA- a simple method for measuring diversity?
14.10 Greg Hanna, Rozzi Martin: Integrating Rapid disease detection into disease management.
14.25 David E. L. Cooke, Brierley J, Toth IK, Randall E, Humphris S, Jones J, Cock PJ: Applications of DNA metabarcoding for plant pathogen tracking and diagnostics.
14.55 Marian McEwan, Laura Melton: Investigation into the development of Fusarium species and their associated mycotoxins in Oat crops.
15.10 Roger Sylvester Bradley: Yield Enhancement network: farmers doing active research.
15.25 Sarah Kendall, P, Berry, S.P. Hoad and I.J. Bingham: Optimising Nitrogen rates and timings for spring barley.
15.50 Steven Kildea, Liam Shepperd, Mladen Cucak, Fiona Hutton: Breakdown in Cougar based Septoria tritici blotch resistance in Ireland and consequences for disease control.
16.10 Neil Havis: Control of barley disease.
16.25 Henry Creissen, Elliot Meador, Fiona Burnett: Information networks of farmers and agronomists in Scotland: Where do they go for IPM advice?